EVERYTHING YOU NEED TO KNOW ABOUT
TAMPA PREP'S GALA

WHEN AND WHERE IS THE GALA?
Saturday, March 6, 2021
7:00 p.m. || From the comfort of your own home!
WHAT IS THE GALA?
This annual tradition celebrates our Tampa Prep community and brings together parents, alumni, administration, faculty and community partners.
The event includes:
sponsor cocktail hour sponsored by Northern Trust from 6:00 - 7:00 p.m.

a curated spread delivered to your home, or viewing location

7:00 p.m. program begins

silent and live auctions to raise money for Tampa Prep's Annual Fund


WHAT SHOULD WE WEAR TO THE GALA?
Wear whatever you want--we just want you to enjoy the fun!
SHOULD I GO (EVEN IF I DON'T KNOW A TON OF PEOPLE AT PREP YET)?
YES! If you haven't been to The Gala yet, this is a GREAT year to start because for the first time it is being held in the comfort of your one home! Even though the event will be virtual, there will still be opportunities to mingle with parents and get to know the Tampa Prep community.
WHAT CAN PARENTS DO TO HELP WITH THE GALA?
Donate to our Silent or Live Auction.

Have an item you would like to donate? Email events@tampaprep.org

to let us know what you can contribute, and make arrangements for drop off or pick up. In addition to typical auction items like restaurant gift certificates for local or national restaurants, stores, and dining experiences we are especially looking for COVID-friendly auction items like staycations, jewelry, outdoor experiences, vacation homes, etc.

BID in our silent auction online! You don't even have to come to the event to participate. All bidding may be done online through our mobile bidding site. The link to items will be posted soon!

Make a donation!

You can make a donation online by finding the section on the purchase form that reads: I CANNOT ATTEND, BUT WOULD LIKE TO MAKE A GIFT IN THE AMOUNT OF:
Please reach out to your Tampa Prep Development office with any additional questions: Amanda Fontana may be reached at events@tampaprep.org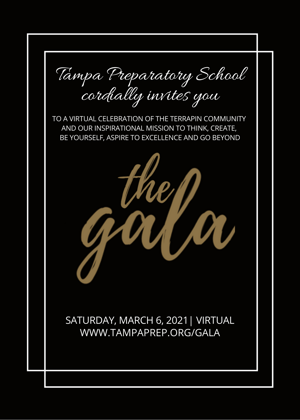 Thank you To our Sponsors

PRESENTING SPONSOR
Ashley HomeStore
The Winters Family

PRE-PARTY SPONSOR
Northern Trust

BRONZE SPONSOR
Tiffany & Michael DeMarcay
Megan & Thomas Feindt
Shannon & Tom Mahaffey
Michael & Ramona Shimberg

TERRAPIN SPONSOR
The Beck Group - Ryan & Charity Toth
Anddrikk '94 & Rena Frazier
Steve Greenbaum & Judy Genshaft
Brian & Irene Lukasik
Simpson Air - Paige & Garry Simpson




BEVERAGE SPONSOR
Heather & Rob Curtis
Rachel & Jason Magee
Allison & Jennifer Mook

TECHNOLOGY SPONSOR
James & Amy Crumpton
Elizabeth & John Sills
Bob & Cathy Smith

PRODUCTION SPONSOR
Hepner Architects
Tony & Dina Muniz
Cary & Kristen Showalter

ENTERTAINMENT SPONSOR
Sabrina & Sandy Solomon

PLATFORM SPONSOR
Ann & Neil Goldenberg
Sharon & Peter Lopez

ADVERTISING SPONSOR
Adam Scheiner, M.D
Applied Image Group
Trentalange & Kelley, P.A.

TICKET SPONSOR
Alliant Employee
Benefits - Jim & Barbara Powell
Gina & Eric Bailey
Balfour Yearbooks
Rachelle & Mike Bedke
Gail & Lou Bernucca
Lori & Matt Danahy '79
Heather & Bump Fahey '90
Kim & Mike Foley
Neil Gobioff & Gianna Rendina-Gobioff
Geoff Guidera '95 & David Schintzius
Holland & Knight, LLP
Michael & Patricia Jurinski
Kasey & Bob Kelly
Janet & David Kumpu
Elizabeth Krystyn & Rick Fueyo
Annie & Jason Gorrie
Frankie & Ron Linsky
Live the Dream Travel
David & Kim Murray
Seth Nelson
Laura & David Osterweil - Fitlife Foods
Tracy & Tapan Padhya
Parwani Law
Kevin & Jen Plummer
Louis & Olga Sanchez
Stephen & Joanna Segundo
Mona & Anjan Shah
Christiana & David Thompson
Tower Radiology - Dr. Neel & Dr. Amy Prakash
Scott & Carrie White
Betsy & Ted Zollinger